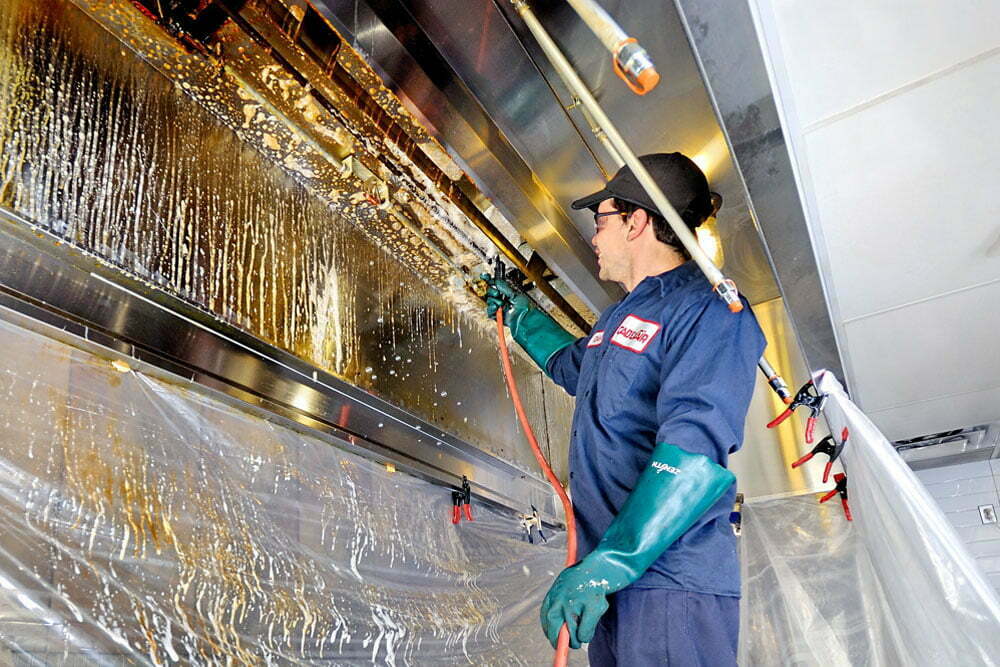 Besides accompanying you in your kitchen ventilation construction projects, Cadexair offers maintenance and cleaning services for your commercial kitchen hoods. Here's a quick guide to help you better understand your needs and when to seek our assistance for our commercial kitchen hood inspection services.
How often should you have your kitchen hood inspected?
It's crucial to respect all laws and regulations about your commercial kitchen hood inspection. The Quebec Construction Code refers to the NFPA 96 2011 standards to regulate the construction and maintenance of air ventilation systems for commercial kitchens. To ensure adequate protection, the authorities having jurisdiction, such as insurance companies and fire protection services, are mandated to enforce the application of this standard. Do you respect the inspection schedule according to the regulations in effect?
Here's a chart summarizing article 11.4 of the Quebec Construction Code and explaining the various inspection frequencies:
| | |
| --- | --- |
| Cooking Type or Volume | Frequency |
| Systems installed in solid fuel cooking operations | Monthly |
| Systems installed in high-volume cooking operations, such as 24-hour cooking, char broiling, or wok cooking | Quarterly |
| Systems installed in moderate-volume cooking operations | Semi-annual |
| Systems installed in low-volume cooking operations, such as churches, day camps, seasonal businesses, or seniors' homes | Annual |
Depending on the kitchen hood system you have, inspection frequency differs. This list helps you determine how many times you should have it inspected per year. Please note that the section of the exhaust system contaminated by grease deposits must be inspected and cleaned by a competent company or person(s) with appropriate training and certification recognized by the authorities having jurisdiction.
Quebec Construction Code
Here are a few essential law articles concerning inspection:
1.1         Cleaning and inspection work for cooking vapour exhaust systems must be done according to the NFPA96 standards. All accessible parts of the hood, ducts, fan and air purifier must be cleaned/inspected.
1.2         Inspection and cleaning frequencies for cooking vapour exhaust systems must match the chart (see chart above) from the NFPA96 standard, Quebec Construction Code, Edition 2011, article 11.4.
1.3         According to the Quebec Construction Code, access doors must be present on horizontal ducts every twelve (12) feet, at each change of direction and at each level on vertical ducts to allow cleaning and inspection to be done properly and in compliance with standards.
1.4       The contractor must be an IKECA member, an organization recognized by the authorities having jurisdiction, like fire protection services.
IKECA establishes standards and procedures for cleaning and inspecting exhaust systems for commercial kitchens.
Best practices for maintaining your commercial hoods
Besides ensuring that your hood inspections are done according to regulations, it's crucial to make sure they are cleaned after inspection. Here's how to ensure the appropriate maintenance of your commercial hoods after inspection, under the Quebec Construction Code:
2.1         All access doors on the ducts must be open so their internal surface areas can be cleaned or inspected. A label indicating the date of the work must be applied to each access door.
2.2        Any parts inaccessible for cleaning/inspection must be mentioned on the certificates. The building owner is responsible for having access doors installed to allow for cleaning and inspection of all surface areas.
2.3        Pictures and/or videos of the cleaned/inspected equipment must be taken before and after the work.
2.4        A label indicating the date of intervention must be applied to at least one hood in every kitchen after each maintenance.
2.5        Bell-type fans equipped with hinges must be titled to allow complete cleaning.
2.6        The gas supply must be turned off when the contractor arrives on site to avoid gas fumes during the cleaning work.
We are committed to providing you with the documentation required by law:
3.1        Customer access, via the contractor's website, must provide access to documents such as photos, certificates, work orders and any other important documents to facilitate any request for information and compliance by the authorities having jurisdiction or another business agent.
3.2        A certificate must be issued after each maintenance once the work is completed.
3.3        A report must be produced, indicating the surface areas that were cleaned/inspected, the areas that were impossible to clean/inspect, anomalies and recommendations.
Cadexair has provided quality service to its customers for many years, thanks to its qualified team. Making sure to respect the following laws, our employees provide the best services available:
4.1        Employees on the premises must have completed the following training:
Health and safety at work
First aid
Working at heights
Confined spaces
4.2        Employees on the premises must wear a company uniform and be clearly identified at all times.
4.3        The contractor must be certified Contractor Check, a market-leading provider of technology-led compliance and risk management solutions for the health and safety of the employees and the environment.
4.4        The contractor must have five (5) years of experience cleaning commercial hood systems.
4.5        The contractor must provide a copy of general liability insurance for a minimum amount of ten million (10 000 000 $) dollars.
Cadexair has had IKECA certification for over ten years. Being an active member of IKECA, Cadexair is certified to apply the standards and regulations required by the Canadian government, as per the NFPA96 norm (National Fire Protection Association).