Maintenance and Cleaning Division
IKECA certification
For more than 10 years
Cadexair is an active member of the professional association IKECA. This organization ensures that the work of its members is carried out in strict accordance with Canadian codes and standards.
IKECA is an international professional association founded in 1989 to meet the NFPA96 standard. Ventilation systems in commercial kitchens should be inspected and cleaned by certified persons or organizations. All members must have a competency card resulting from rigorous examinations following continuing education.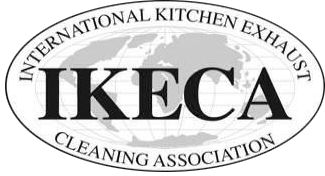 Types of intervention
We offer maintenance programs adapted according to
types of cooking, cooking activities and applicable regulations
Inspection of commercial kitchen ventilation systems by a competent and certified company is mandatory according to section 11.4 of the NFPA 96 standard in force.
The accumulation of grease in commercial hood systems must be cleaned by a company duly trained in accordance with article 11.6.1 of the NFPA 96 standard in force.
Some more technologically advanced systems must be studied in a more complex way, it is for this reason that all our technicians have access to our team of engineers who design this type of ventilation system.
Your system is not working? You have a problem? Our technical support teams are there to help you!
Is your maintenance program in accordance with the regulations in force?
Maintenance program for self-cleaning hood systems including monthly visits and necessary biotechnology products
Filter replacement program in air cleaning devices and air supply fans, according to your needs
Monthly cleaning program for filters in hoods
Fan belt replacement and bearing maintenance program
Grease interceptor treatment program, including supply of biotech dissolving products
Several reasons to choose Cadexair
Qualified staff in continuous training

Expertise for over 30 years

Several teams across the province

IKECA certified and trained

Contractor Check certified

According to the rules in force

Staff with access to an engineering department

Staff qualification: Closed space training

Staff qualification: working at height training

Our technicians meet the strictest safety investigation standards in the industry

Cadexair employees are authorized in several restricted access sites
Staff qualification: WHMIS training

Staff qualification: lockout training
We offer several maintenance programs tailored to your needs
The Quebec construction code refers to the NFPA96 2011 standard to regulate the construction and maintenance of air ventilation systems for commercial kitchens. The authorities having jurisdiction, including fire protection services and insurers, have the mandate to strengthen the application of this standard.
Articles concerning the maintenance of evacuation systems
11.4 * inspection for accumulation of fat. The complete evacuation system must be inspected by a company or competent person (s) duly trained and certified acceptable to the authorities having jurisdiction, in accordance with the table below.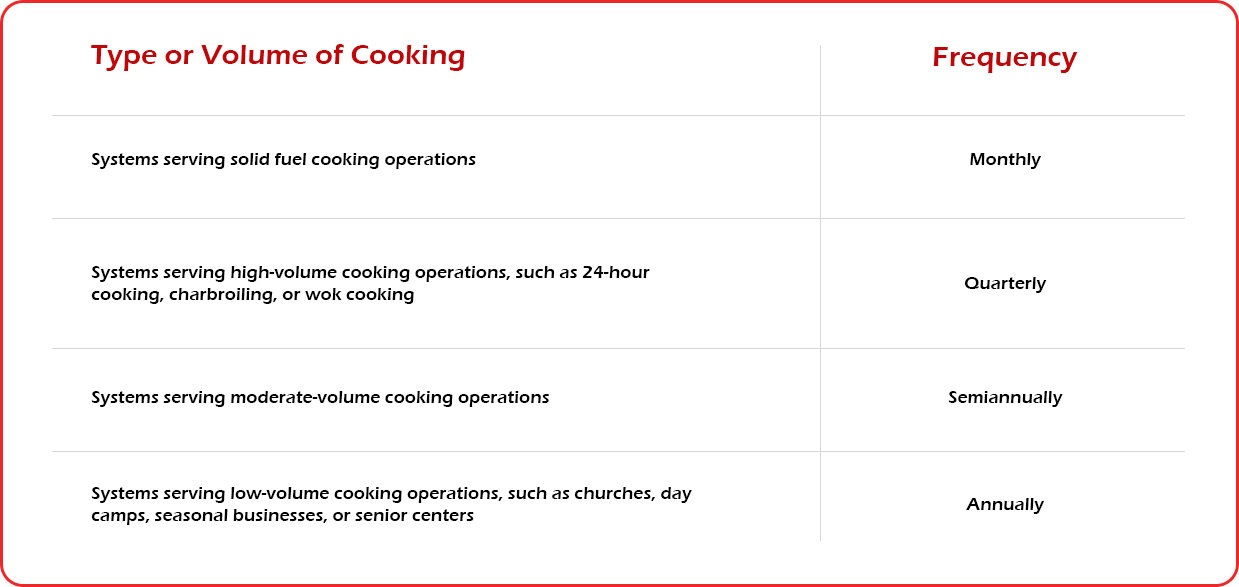 11.6.1 * Following the inspection, the portions of the evacuation system contaminated by grease deposits must be cleaned by a competent company or person (s), duly trained and certified, acceptable to the authorities having jurisdiction.
* Free translation for reference only.
When to clean
In connection with NFPA96, a system for measuring fat deposits is established to trigger a need for cleaning. The measurement method is a depth gauge comb, shown above, which is scraped along the surface of the horizontal and / or vertical conduit. A measured depth of 2,000 microns (0.078 inches) indicates the need to clean to eliminate the risk of fire. The comb also includes a point measurement in the critical zone which is 3175 microns (0.125 inch), with such a thickness, the conduits, made of 16 gauge galvanized steel, will not be able to withstand the heat of the fire and will open leaving the spread.










Technical support
Call Cadexair for advanced technical support
You can count on customer service that listens to your needs and ensures professional work, done by experienced staff to:
Replacement of belts
Replacement of motors
Replacement of electronic controls
Replacement of components for variable flow hoods
Upgrading of control systems
Smoking evacuation or fresh air compensation problem
CONTACT OUR TECHNICAL TEAM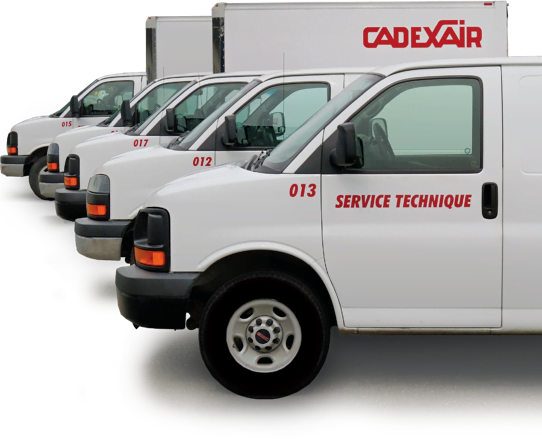 Cadexair dessert des clients tels que :
A
Des milliers d'autres professionnels de cuisines à travers le monde ont opté pour la technologie Cadexair
Call for Tender
We offer maintenance programs adapted according to
types of cooking, cooking activities and applicable regulations